Procons' automated roll profiling line minimises risks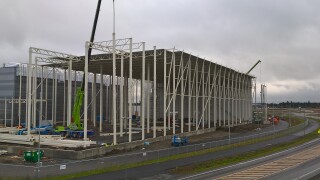 Nordec's current business premises in Vaasa used to have the name Ruukki Building Systems above the door. The Vaasa branch has more than 20 employees, the majority of whom are design engineers. The team also includes salespersons, project engineers and project managers whose main responsibility is the Nordic market.
"We focus on project deliveries made all over Finland and other Nordic countries. We have special know-how of carrying out large-scale projects for demanding industrial constructions, such as power plants. We have also been involved in the design, production and implementation of various building projects, such as logistics centres, supply depots for food products, apartment blocks, factories, bridges and large shopping centres. We can offer to handle one part of a project for our customers, or equally competently take full charge of a multimillion project," says Sourcing Manager Patrik Risberg from Nordec's Vaasa branch.
Nordec began collaboration with Procons in the summer of 2019. The company became interested in Procons' new process line for roll profiling, which can produce demanding steel profiles to meet the needs of different kinds of projects.
"Nordec's goal is to optimise its schedule for installations and deliveries, and a reliable subcontractor with excellent delivery reliability is very advantageous for us. In practice, it means we are buying additional resources that are available exactly when we need them."
Products with a high degree of finish delivered directly to the building under construction
The price-quality ratio makes a big difference when choosing a subcontractor. Choosing the right supplier will minimise potential risks, and careful consideration is given to which factors should be given the most weight in the decision.
"It's important to us that the products we order are finished to a high degree when they are delivered to the site. It makes work easier for everyone. Procons' new automated process line minimises anomalies and maximises the consistent quality of production. It goes without saying that we expect the delivered profiles to be of the highest quality and made to exactly the right dimensions."
Before starting the collaboration, Nordec always carefully verifies the subcontractor's reliability. It does this by looking into, for example, the company's financial data and quality systems and visiting the factory and offices.
A good partner serves with information and by responding quickly
Although price and quality are important, there are other factors to take into consideration too.
"When a subcontractor is a true professional, it benefits the customer as well. At best, Procons offers us good advice and suggestions on how best to carry out a project. Their suggestions for solutions are extremely useful to us and help us produce the best result possible for the end customer."
Procons prioritises quick customer service and active communication with customers. Risberg praises the company's direct communication, which has always gone smoothly with the person in charge of Nordec's customer account.
"We highly value the fact that when we have a question, we get a straight answer and quickly too. Procons' flexible service is also evident in their deliveries, which are available even at short notice."
Back to References