Cold roll-forming of heavier steel beams
Cold roll-forming, also known as cold rolling, is a precise and efficient manufacturing method also for stronger steel beams used, for example, for building loadbearing structures.
We manufacture 1–4 mm thick steel beams with C, U, Z and Sigma profiles by cold roll-forming. The beams can be up to 12 metres long. By utilising C, U, Z and Sigma profiles, asymmetric cross-sectional dimensions are also possible. We also manufacture various connecting and fastening pieces for steel beams.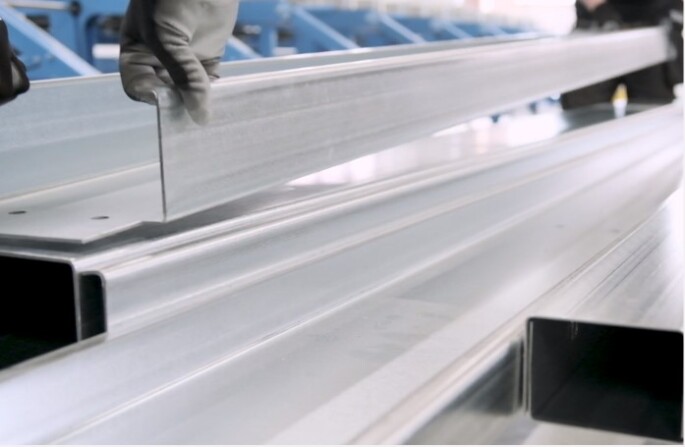 Steel beams according to customer needs
Steel beams can be manufactured pre-perforated or with bolted joints, skewed ends or asymmetrical perforated patterns and crosscuts. One advantage of our production line is our CNC punch press, which we use to make customised pre-perforations in the product. We deliver the products to the site ready for assembly, and equipped with standard conformity markings or without markings, in accordance with the customer's wishes.
Contact us
Contact us when you need stronger steel structures with accurately dimensioned cross-section profiles! We always reply quickly to enquiries and calculate quotations even at short notice.

Frames:
1–4 mm thick steel plates

140–630 mm wide blanks

up to 12 m long steel beams

U, C, Z and Sigma profiles

suitable also for manufacturing small batches

usually, no start-up costs

customised bolted joints, also asymmetric perforated patterns and skewed ends

on request, products are delivered ready for installation and equipped with instructional markings
Connecting and fastening pieces
50–630 mm wide blanks

5 mm thick steel plates

Cold roll-forming is suited for:
Structural steel and manufacturing loadbearing beams

Lightweight purlins

Thermo purlins

Frameworks

Structures for heavy motor industry, etc.